BP Turbo
Oil 2380
$12QT
Trast Aerosupermarket (Aquiline Internationl Goup of Companies) offers BP Turbo Oil 2380 from its premises at Sharjah International Airport Free Zone (SAIF Zone) available for immediate delivery worldwide.
UAE Phone: +971 (6) 5570710, International phone: +8 835 1000 124 3547 e-mail:
BP Turbo Oil 2380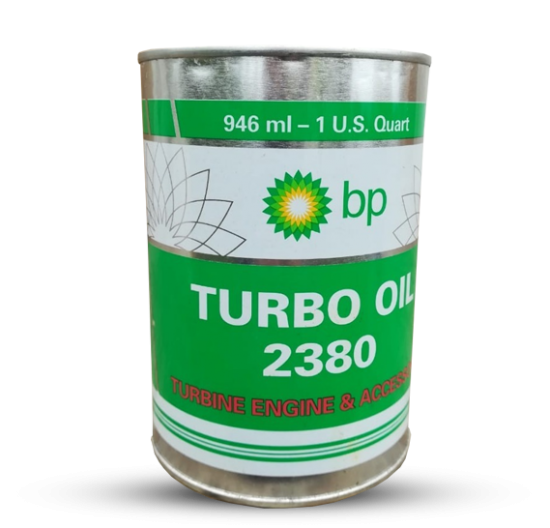 Sale BP Turbo Oil 2380
Technical Service
BP provides technical service in support of our products
and their performance. The two vital elements of this
service consist of a highly qualified Technical Staff and a
complex of Sales Service Laboratories. As the name
implies, the Technical Staff maintains contact with
customers, engine and airframe manufacturers, and
accessory equipment manufacturers. The Sales Service
Laboratories provide laboratory services to assist in
used oil analyses.
TECHNICAL STAFF
The Technical Staff consists of aviation career
specialists to provide service to customers and to work
with major airframe and engine builders. These
specialists have at their disposal the full facilities of
Sales Service Laboratories and BP product research
facilities. This system ensures that each individual is
well informed on equipment developments, industry
problems and product performance. Thus, while only
one member of the Technical Staff will be the principal
contact with a customer, that member will reflect the
experience and knowledge of the entire organization
and will have ready access to all facilities of the
corporation for assistance as required on behalf of his
assigned accounts. The fact that the Technical Staff is
part of the headquarters of their respective
organizations assures that the staff members have
headquarters' authority to assist in effective handling of
their assignments .
BP provides worldwide technical service in support of
turbo oil customers. Service is coordinated by Air BP
Lubricants from its office in Parsippany, New Jersey.
SALES SERVICE LABORATORIES
The Sales Service Laboratories are located throughout
the world at BP's major refineries and blending plants.
These laboratories in turn are backed up by the full
facilities of BP research facilities in Naperville, Illinois.

PRODUCT SAMPLE PROCEDURES AND HANDLING
The base purpose of analyzing product samples is to
assist in solving or defining a problem that may be
related to the performance of the lubricant. Thus, the
sample size and handling procedures may vary with the
nature of the suspected problem and with the analytical
techniques required for definition and solution.
Experience has provided standardized procedures
applicable in many instances. Details are available from a member of the Technical Staff.
---
» Approvals
» Msds
» Premier accessory performance
» Technical Service
» Future Outlook
» Health and Safety Precautions
BP Turbo Oil (BPTO) 2380, available throughout the world, is now being used by over 350 airlines representing a majority of the free world's commercial airline requirement for 5 cSt turbo oils. This fact attests to the outstanding performance of this product in the wide variety of engines and accessories now in service.