BP Turbo
Oil 2380
$12QT
Trast Aerosupermarket (Aquiline Internationl Goup of Companies) offers BP Turbo Oil 2380 from its premises at Sharjah International Airport Free Zone (SAIF Zone) available for immediate delivery worldwide.
UAE Phone: +971 (6) 5570710, International phone: +8 835 1000 124 3547 e-mail:
BP Turbo Oil 2380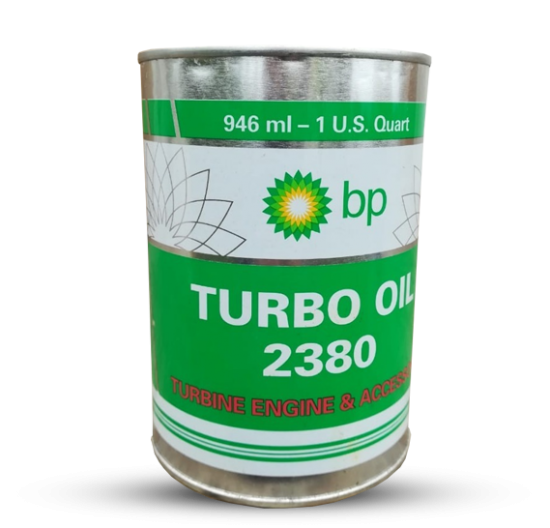 Sale BP Turbo Oil 2380
Health and Safety Precautions
Health studies have shown that under normal conditions of use, turbo oil presents a low risk to human health. The major health risk from exposure to turbo oil is temporary irritation of the eyes, skin, and respiratory tract. Temporary irritation is a common hazard of most petroleum hydrocarbons and synthetic lubricants, like turbo oil. Irritation occurs when product is applied
directly to the eyes, repeatedly to the skin, or when high levels of vapors or mist are inhaled. Because sensitivity to irritation can vary from person to person, direct contact with the eyes and skin, and inhalation of vapors or mist should be minimized. Prolonged and repeated skin contact with turbo oil can also cause temporary dermatitis.
Because the vapor pressure of turbo oil is very low, generation of vapor under ambient temperature conditions is unlikely. At elevated temperatures, however, product vapor may be generated at concentration levels sufficient to cause irritation,
particularly in poorly ventilated areas or in confined spaces. If this occurs, or if a mist of turbo oil is generated, precautions should be taken to avoid inhaling vapor or mist at concentrations above the exposure guidelines specified on the product Material Safety Data Sheet (MSDS). Prolonged over-exposure to vapors or mist could cause headache, light-headedness, dizziness, and potentially unconsciousness, but normal conditions of use will not produce these effects.
You can protect yourself from routine turbo oil-related hazards by using appropriate engineering controls and work practices, and by wearing proper eye protection, gloves and clothing. Additional important health and safety information for this product is provided on the MSDS, which is available from your BP representative. The exposure guidelines found on the MSDS should always be followed.
Turbo oil should never be siphoned by mouth.
However, if the oil is swallowed, DO NOT induce vomiting, but seek medical advice immediately to guard against the hazard of aspirating oil into the lungs. While the oil is not highly toxic when swallowed, lung aspiration can result in chemical pneumonia that may not occur for some time. In the event of fire or leakage of product onto an extremely hot surface which causes turbo oil to burn, emission of fumes and combustion products that are
potentially irritating, noxious, and toxic may occur, such
as aldehydes and carbon monoxide. Take precautions to avoid and/or minimize exposure under these conditions. Use supplied oxygen if necessary.
Additional health and safety information may be obtained by writing to: Air BP Lubricants, Air BP, Maple Plaza II-1N, Six Campus Drive, Parsippany, NJ 07054.
---
» Approvals
» Msds
» Premier accessory performance
» Technical Service
» Future Outlook
» Health and Safety Precautions
BP Turbo Oil (BPTO) 2380, available throughout the world, is now being used by over 350 airlines representing a majority of the free world's commercial airline requirement for 5 cSt turbo oils. This fact attests to the outstanding performance of this product in the wide variety of engines and accessories now in service.